⭐️ FALL SALE ⭐️
EXTRA 15% OFF w/code 'FALL15'
SHIPS SAME-DAY | FREE RETURNS | LIFETIME WARRANTY
GET A FREE COTTON CANDY JADE VITALITY BRACELET
WITH ORDERS OVER $100 USD ( $100 CAD VALUE)
FREE SHIPPING WITHIN CANADA
ON ORDERS OVER $99+ CAD
⭐️ FALL SALE ⭐️
EXTRA 15% OFF w/code 'FALL15'
SHIPS SAME-DAY | FREE RETURNS
LIFETIME WARRANTY
GET A FREE
COTTON CANDY JADE VITALITY BRACELET
WITH ORDERS OVER $100 USD ( $100 CAD VALUE)
FREE SHIPPING WITHIN CANADA
ON ORDERS OVER $99+ CAD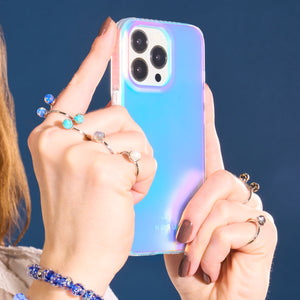 PHONE CASES
The Mermaid Prism iPhone case is a perfect choice for fans of our Mermaid Glass who want to add a touch of iridescent beauty to their phone. The frosted case shimmers just like a mermaid's tail, making it a stunning addition to your phone. The matching bumper provides added protection and makes your phone look like a true work of art.
If you love the spotlight and want to add a touch of magic to your phone, this is the case for you.
Its iridescent colors will change and shimmer depending on the angle at which it is viewed and the lighting conditions. This means that the case will look different on different iPhones, making it a unique accessory for each phone. For example, the colors may be more vibrant and pronounced on a light-colored iPhone, such as silver or gold, while they may be more subtle on a black or dark-colored iPhone. All the images are of the same style on different colored phones.